Strobe 16
The Strobe 16 is a significantly more powerful light barrier than the Strobe 10. The effect of the 2,700W bulb is dramatic - the flash output is highly disruptive and is extremely difficult to deal with - so much so that it even penetrates closed eyelids, and can temporarily "burn" a white spot into the intruders vision. The resultant effect is very destabilizing and disorienting when combined with an Inferno sound barrier. The extreme power of the strobe demands a 16A fuse, which in some cases may require the intervention of an electrician - to ensure that existing mains wiring is capable of delivering the required current.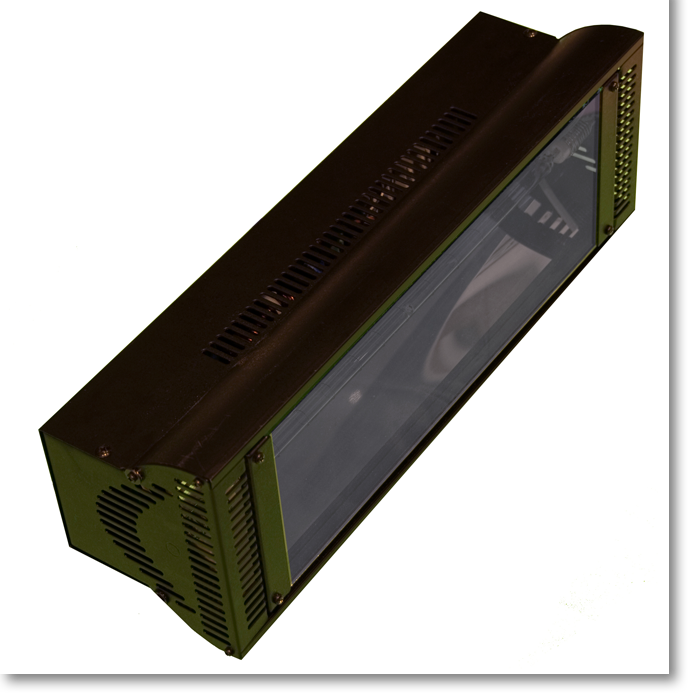 Typical applications:
As with the Strobe 10, the Strobe 16 is suitable to a huge range of security applications, ranging from retail premises to storage facilities. It too is most often installed in tandem with a sound barrier in order to create sensory overload and render the intruder's attempt a failure. The aesthetics and smaller size of the Strobe 16 are such that it does not look out of place in high end retail environments.
Technical summary:
| | |
| --- | --- |
| Bulb rating | 2,700W |
| Dimensions | 460mm x 220mm x 125mm |
| Weight | 3kg |
| Voltage requirements | 230V, 50/60Hz |
| Fuse | 16A |
Data sheet:
Download

the Strobe 16 data sheet with complete technical specifications.