Strobe 10
The Strobe 10 is the original Inferno light barrier and is the most widely used model. Rated at 1,500W with a 10A fuse, the strobe does not place undue demands on mains wiring - meaning that in almost all cases, it can simply be integrated into existing wiring. The strobe is most often installed in tandem with a sound barrier, in order to achieve sensory overload and create maximum disruption and disorientation to the intruder.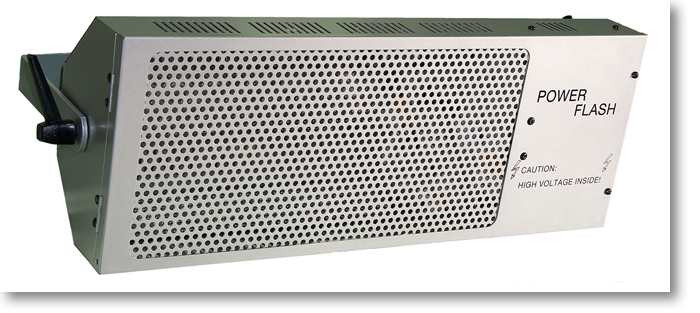 Typical applications:
A huge range of security applications within the commercial, industrial and residential realm - essentially anywhere a sound barrier is required. Unlike the svelte sound barriers, the Strobe 10 is a somewhat ungainly device that may not lend itself to installations where aesthetics are important. If aesthetics are critical, the more inconspicuous Strobe 16 is a more attractive proposition.
Technical summary:
| | |
| --- | --- |
| Bulb rating | 1,500W |
| Dimensions | 620mm x 240mm x 200mm |
| Weight | 5kg |
| Voltage requirements | 230V, 50/60Hz |
| Fuse | 10A |
Data sheet:
Download

the Strobe 10 data sheet with complete technical specifications.